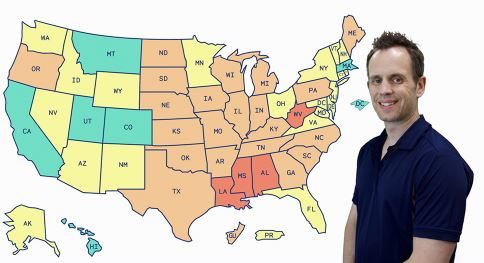 Coaching Clients With Obesity Course Is Now Live!
I'm really excited to announce that my new Personal Trainer Collective course, Coaching Clients with Obesity, is now live.
Coaching Clients with Obesity is specifically designed to empower the personal trainer when dealing with the unique challenges of clients with obesity. Obesity is a global epidemic, and clients with obesity need special consideration from both a nutritional and exercise standpoint.
It's 8 hours of video over 19 units. You can study it completely online, from anywhere in the world. The PTC are also having a special early-bird launch promotion - for the next 30 days, you can access this exclusive course for just £269/$349!
Key Outcomes
You'll understand the complex, multi-factorial causes of obesity, and how modern lifestyles contribute to it.
You'll be able to set up a sustainable nutrition plan for a client with obesity, and be positive that they'll stick to it.
You'll feel confident in leading your clients with obesity through an exercise program that's safe, suitable, and scientifically sound.
You'll be able to teach your clients how to set up their lifestyle to maximize their chances of losing weight and keeping it off.
Course Syllabus
Module 1: Obesity - A Unique Challenge 
Unit 1: What is Obesity
Unit 2: The Primary Driver Behind Obesity
Unit 3: Secondary Drivers of Obesity
Module 2: Nutrition Strategies for Weight Management
Unit 4: Energy Balance and Setting Calorie Targets
Unit 5: Setting up a Sustainable Nutrition Plan
Module 3: Exercise and the Obese Client
Unit 6: Components of Energy Expenditure
Unit 7: Non-Exercise Activity Thermogenesis (NEAT)
Unit 8: Impacts of Endurance Exercise and Interval Training on Energy Expenditure Fat Loss
Unit 9: Impacts of Resistance Exercise on Energy Expenditure and Fat Loss
Unit 10: Impacts of Exercise on Abdominal Fat & FFM Retention
Unit 11: Impact of Exercise on Appetite
Unit 12: Impacts of Fasted vs Fed Exercise on Energy Expenditure and Fat Loss
Unit 13: Exercise Training Modalities for Obese Clients
Unit 14: Strategies for Increasing NEAT
Module 4: Lifestyle Factors for Obesity
Unit 15: Sleep & Self Monitoring
Module 5: The Bigger Picture - Adherence and Long-Term Success
Unit 16: Long-term Weight Maintenance
Unit 17: Psychology of Obesity - Strategies for Adherence and Successful Weight Loss/Maintenance
Module 6: Consultation and Practical Programming
Unit 18: Consulting with an Obese Client and Practical Application
Unit 19: Summary
About the PTCA
The Personal Trainer Collective is the new home of expert health and fitness education.
At the PTC, we believe that Personal Trainers and Fitness Professionals have a key role to play in positively impacting health and fitness around the globe. By educating and empowering our students, we aim to make the world a healthier place.
PTC courses are always created with one thing in mind: to give you the confidence you need to make a difference. With world-class tutors, PTC courses draw on countless hours of scientific study and decades of 'in-the-trenches' experience. You'll gain a deeper understanding of the key ways in which Personal Trainers work with clients – exercise, nutrition, and psychology – and the PTC's team of experts will expose their tried-and-tested methods to help you apply your understanding to the individual people you work with.

As a Personal Trainer, you build your career around other people's successes. We decided it was time that someone cared about yours.
---
Get the latest science on muscle gain and fat loss every month
Keeping up with the research is tough, so let us do the work for you. Consider signing up for the
Weightology Research Review
. We cover 8 studies per month and break everything down for you, so you don't need a PhD to interpret the data. You also get access to an archive of nearly 300 video and written reviews, evidence-based guides, Q&A's, and more.
Click here to learn more.
Want some sample content before you buy?